Bandwagon. Many ads show lots of people using the product, implying that "everyone is doing it" (or at least, "all the cool people are doing it"). No one likes to be left out or left behind, and these ads urge us to "jump on the bandwagon." Politicians use the same technique when they say, "The American people want..." How do they know?
Testimonials. Media messages often show people testifying about the value or quality of a product, or endorsing an idea. They can be experts, celebrities, or plain folks. We tend to believe them because they appear to be a neutral third party (a pop star, for example, not the lipstick maker, or a community member instead of the politician running for office.) This technique works best when it seems like the person "testifying" is doing so because they genuinely like the product or agree with the idea. Some testimonials may be less effective when we recognize that the person is getting paid to endorse the product.
Repetition. Advertisers use repetition in two ways: Within an ad or advocacy message, words, sounds or images may be repeated to reinforce the main point. And the message itself (a TV commercial, a billboard, a website banner ad) may be displayed many times. Even unpleasant ads and political slogans work if they are repeated enough to pound their message into our minds.
Plain folks. (A type of Testimonial – the opposite of Celebrities.) This technique works because we may believe a "regular person" more than an intellectual or a highly-paid celebrity. It's often used to sell everyday products like laundry detergent because we can more easily see ourselves using the product, too. The plain folks technique strengthens the down-home, "authentic" image of products like pickup trucks and politicians. Unfortunately, most of the "plain folks" in ads are actually paid actors carefully selected because they look like "regular people."
Glittering generalities. This is the use of so-called "virtue words" such as civilization, democracy, freedom, patriotism, motherhood, fatherhood, science, health, beauty, and love. Persuaders use these words in the hope that we will approve and accept their statements without examining the evidence. They hope that few people will ask whether it's appropriate to invoke these concepts, while even fewer will ask what these concepts really mean.
Emotional Appeal: Make viewers feel certain emotions, such as excitement, sadness, or fear

Name-calling. This technique links a person or idea to a negative symbol (liar, creep, gossip, etc.). It's the opposite of Glittering generalities. Persuaders use Name-calling to make us reject the person or the idea on the basis of the negative symbol, instead of looking at the available evidence. A subtler version of this technique is to use adjectives with negative connotations (extreme, passive, lazy, pushy, etc.) Ask yourself: Leaving out the name-calling, what are the merits of the idea itself?
Now, Start Scribbling!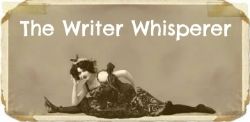 Happy Writing!
The Writer Whisperer
Believe In Truth, Beauty, Freedom, Love, and the Power of the Written Word!