What is your reaction to this video. Do you agree with the presenter or disagree? Why?
Respond to the following Quote:
"What matters most in a child's development, they say, is not how much information we can stuff into her brain in the first few years. What matters, instead, is whether we are able to help her develop a very different set of qualities, a list that includes persistence, self-control, curiosity, conscientiousness, grit and self-confidence."
―
Paul Tough
,
How Children Succeed: Grit, Curiosity, and the Hidden Power of Character
Six Must See TED Talks from 2013: Click Here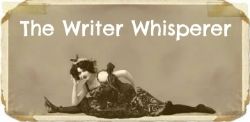 Happy Writing!
The Writer Whisperer
Believe In Truth, Beauty, Freedom, Love, and the Power of the Written Word!